Members
In 2021, the number of students increased to 36. In March 2022, Assistant Professor Monica Perusquía-Hernández joined the laboratory. In April 2022, 11 new M1s and 2 research students joined, and another research student joined in May. Currently, the number of students is 39, which is the largest ever. In addition, there are currently 12 international students from 8 countries (Germany, France, China, Thailand, Malaysia, Colombia, Brazil, Egypt). The number of female students has increased to 10 , the highest number ever, and the lab has become even brighter and more energetic. We will continue to do our best to ensure that a diverse range of students can live a comfortable student life.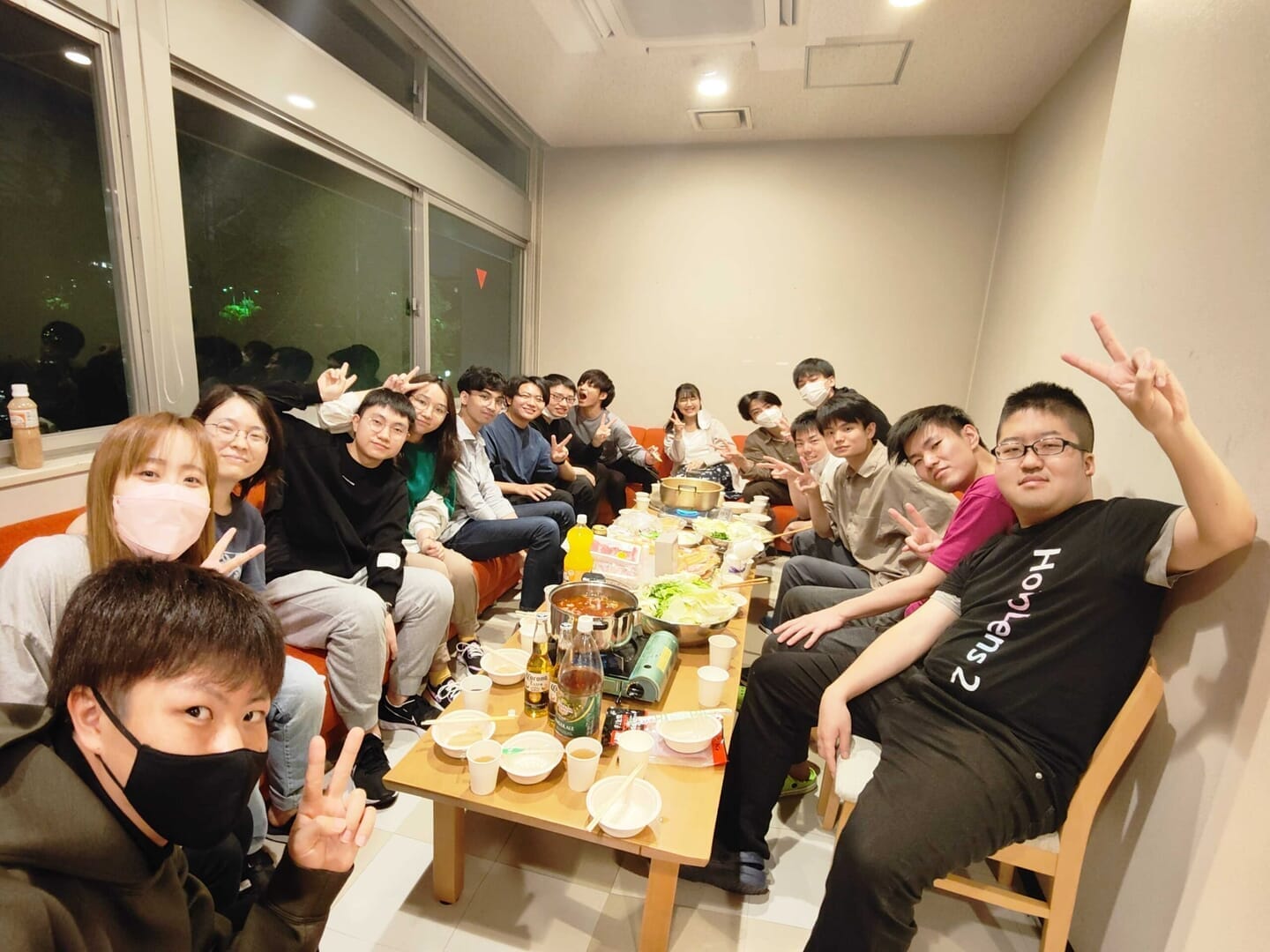 Welcome party in April, 2022
Research Achievements
We were able to publish many research results in the School Year 2021 as well including 10 English journals papers, 10 international conference papers, and 8 domestic workshop papers, 14 invited talks, and 11 awards. In English journals and international conferences, we had many co-authored institutes including 19 oversea institutions in 8 countries (total 26 institutions when 7 domestic institutions are included)(*).
Among the awards, Professor Kiyokawa received multiple awards from the IEEE (Institute of Electrical and Electronics Engineers) VGTC (Visualization and Graphics Technical Community) at the same time. He was awarded the IEEE VGTC VR Technical Achievement Award for his many pioneering research achievements in the AR / VR field, the IEEE VGTC VR Service Award for his contribution to the management of the academic community, and elected as an inaugural member of the IEEE VGTC VR Academy. In addition, many students' research achievements were awarded, including the Best Student-Led Paper Award at IEEE ISMAR 2021, the top conference in the AR / VR field, the HCG Human Communication Award (Best Paper Award of the Year) from the Human Communication Group of the Institute of Electronics, Information and Communication Engineers (IEICE), IEICE MVE Award (third year in a row), UWW Best Student Presentation Award, and Information Processing Society Ubiquitous Computing System Study Group Excellent Paper Award. We also won the Kawakami Memorial Award (3rd place) and the Judging Committee Award at the IVRC, a high-level VR competition for students.
In addition, research results were featured in various media such as TV Osaka "Mirayer", Nippon TV "Itte Q to the End of the World!", And Yomiuri TV "Miraino Mitorizu".
In the School Year 2022, we will continue to actively work with more powerful members.
(*)Co-authored Institutes in the School Year 2021
America

The University of Arizona, USA
Augusta University, USA
University of California, Santa Barbara, USA
University of Maryland, USA
Texas A&M University, USA
Massachusetts Institute of Technology, USA
Microsoft, USA
Universidade Federal Rural de Pernambuco, Brazil

Europe

Bonn-Rhein-Sieg University of Applied Sciences, Germany
Osnabrück University, Germany
University College London, UK
Birmingham City University, UK
University of St. Gallen, Switzerland

Asia

Shanghai Jiao Tong University, China
Shenzhen Institute of Advanced Technology, China
Politeknik Negeri Banjarmasin, Indonesia
Universitas Brawijaya, Indonesia
Indonesian Institute of Sciences, Indonesia
The University of Haripur, Pakistan

Japan

The University of Tokyo (3 laboratories)
Tohoku University
Kyushu University
Kobe University
University of Tsukuba
Ryukoku University
Osaka Institute of Technology