Table of Contents
Let's do what you want to do
What is your dream? Are you satisfied with who you are now? Do you want to do something bigger and more fun?
Want to create a tool of the future? Want to become able to do magic? Want to make people around you smile? Want to help someone in need? Want to know more about human beings?
You only live once. Why not seriously pursue the dreams you almost forgotten?
We are here to help you realize your dreams.
We grow up giving up on the simple dreams we envisioned when we were little. It's a very negative term to say, "knowing reality" or "seeing reality."
But with AR, VR, and various technologies, we can change the "reality" of the world. You can design in the midair in front of you, see through walls, fly through the air, transform into different people, touch each other at a distance, "see" audio even if you are deaf, and "hear" visual information around you even if you are blind.
People who want to make their wishes come true and those in need will not have to give up.
Why don't you create the future by yourself.
We are looking for motivated students who are interested in Cybernetics technology and Reality Engineering technology to make people happier. To those of you who are interested but think it will be too much for you because you have no experience, that is not true at all. People with no experience are also welcome.
The most important thing to consider when deciding on a research topic is whether or not it is exciting. We will then support you to develop that research topic to a high level that will be accepted by top conferences and top journals.
In our lab, we especially welcome students who:
Have a desire to make humanity happier through science and technology,
Have a strong interest in human perception, cognition, psychology, and bodily functions,
Love manufacturing and have the tenacity to not give up, and
Have no allergy to mathematics and English.
If you have found our website and read this far, we think you are well qualified.
Let's create a better world together.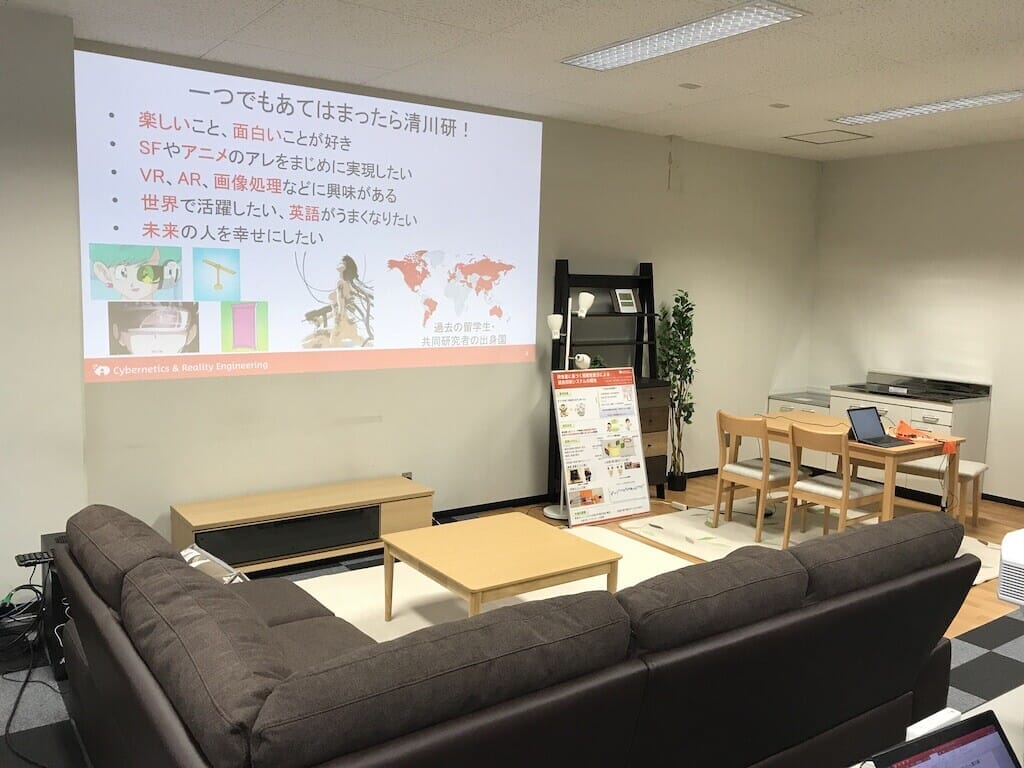 Contact us first
If you are at all interested in our lab, please contact us immediately. We will respond to you in a courteous and friendly manner.
This encounter may change your future.
Of course, we are open to as many people as possible who are not interested in taking entrance exams or joining our laboratory, but just want to see what we are like, so please feel free to take a look.
The earlier you contact us, the better. In our experience, students who contact us earlier and more enthusiastically seem to perform better on the entrance exam. In particular, we do not recommend that you take the exam without contacting us for the following two reasons.
For you to get to know us NAIST is a graduate-only university. You will have to leave the university or technical college you are accustomed to attending and live a new life in a new place with new people. It is natural to have expectations and at the same time anxiety. By familiarizing yourself with NAIST and our laboratory, you will be able to take the entrance exam without fear. By taking the time to communicate with us, you will not have to worry about compatibility or the environment, and at the same time, you will be able to prepare for the exam more easily. Please be sure to contact us before you apply, especially for the second and subsequent rounds of the entrance exam, as we may have already accepted too many applicants.
For us to get to know you The interview at the entrance exam is short, so there is a risk that you may not be able to demonstrate your ability well. Needless to say, taking a daily campus tour or a lab experience is not part of the exam and is not required. However, it is true that these preliminary interactions help us to get to know you better and more accurately determine your abilities (please note that this does not necessarily give you an advantage).
How to contact us
There are several specific ways to get in touch with us.
Send an e-mail to our staff

Send a message using the contact form at the end of this page.
Send an e-mail directly to our staff. Staff e-mail addresses can be found here.
Please write what you are interested in, what you want to know, or what you feel uneasy about. We will set up a video interview or other means to talk with you.

Sign up for admissions-related events that you can apply for at any time.
Participate in regularly scheduled admissions-related events.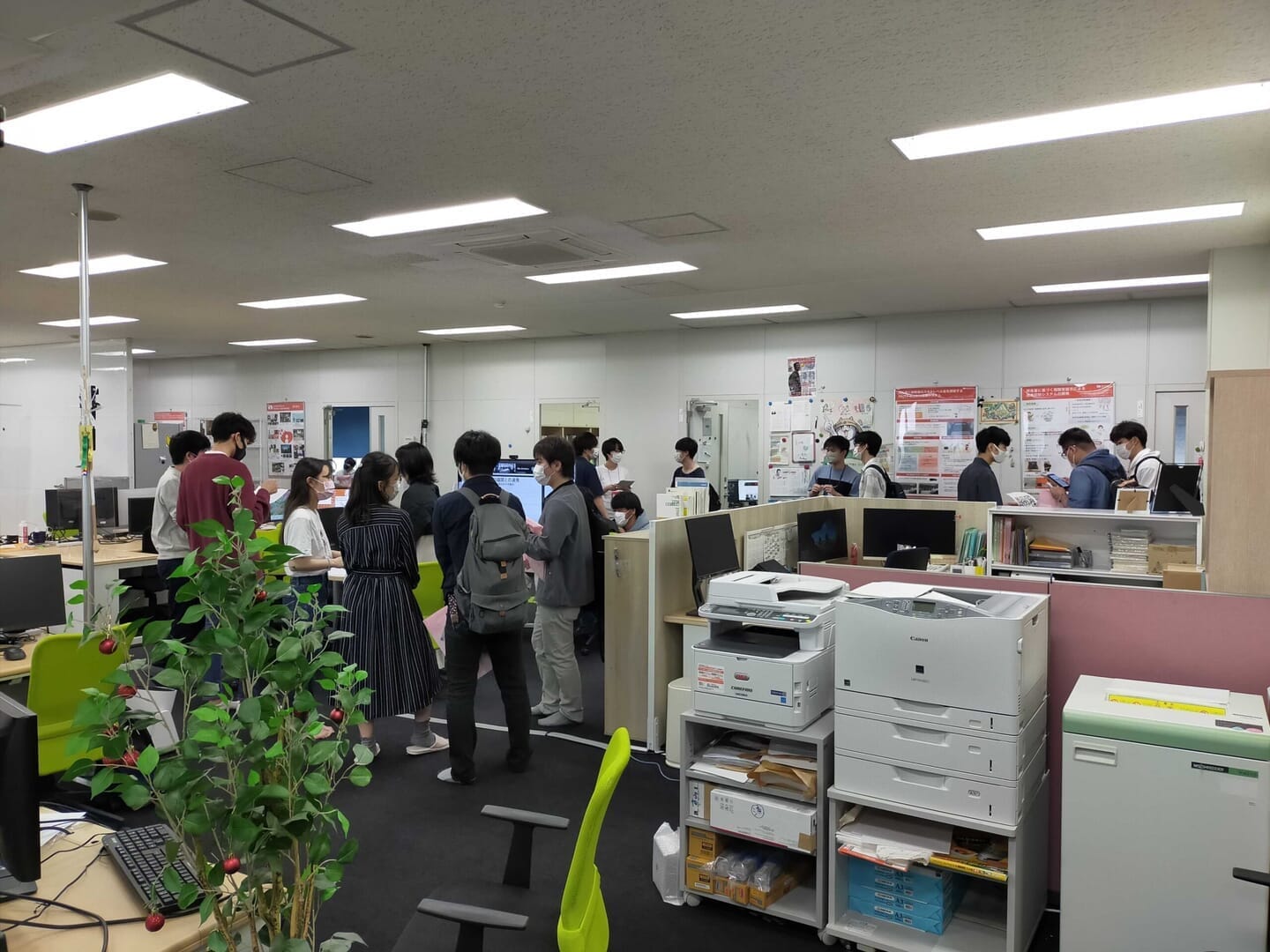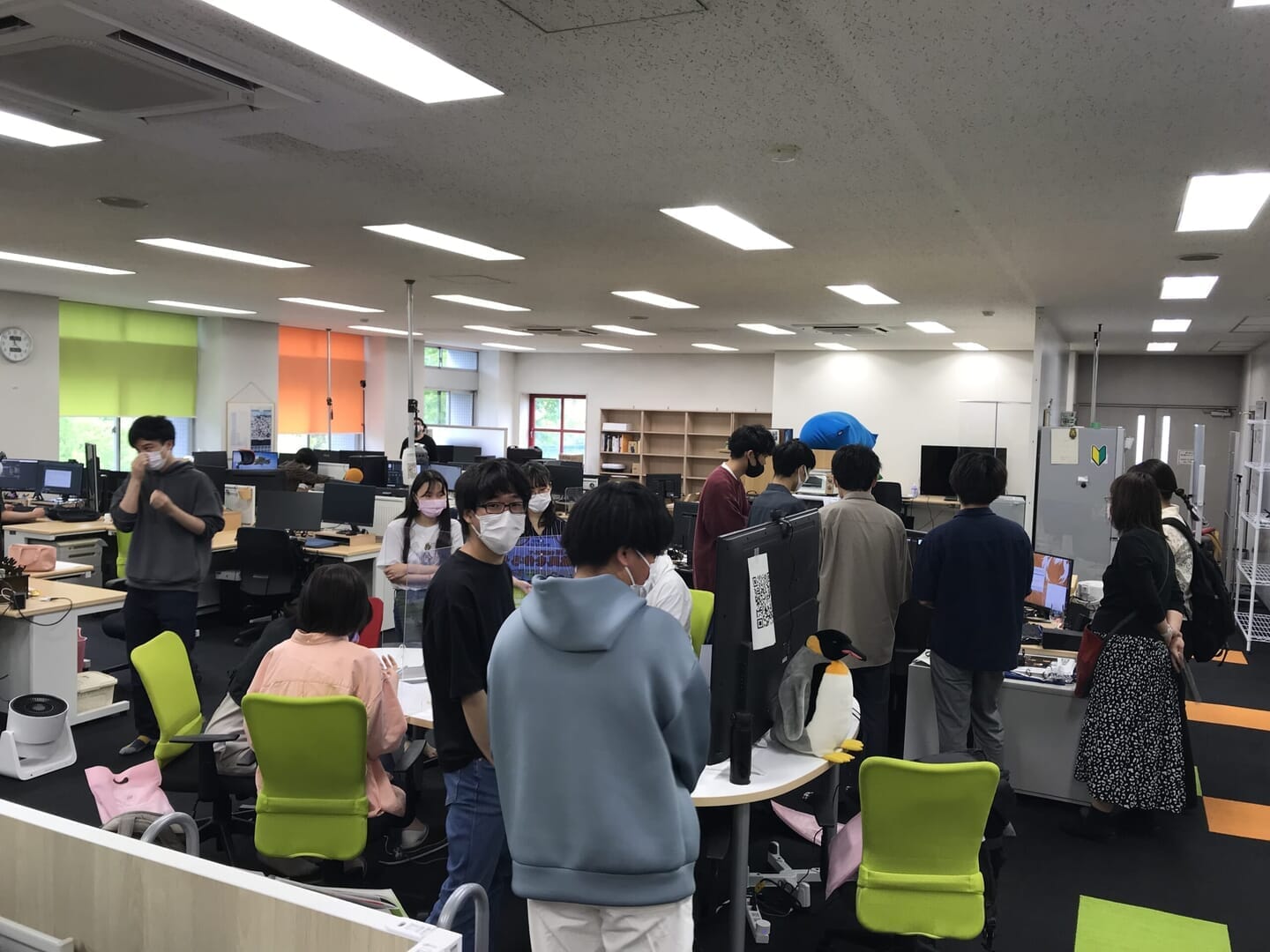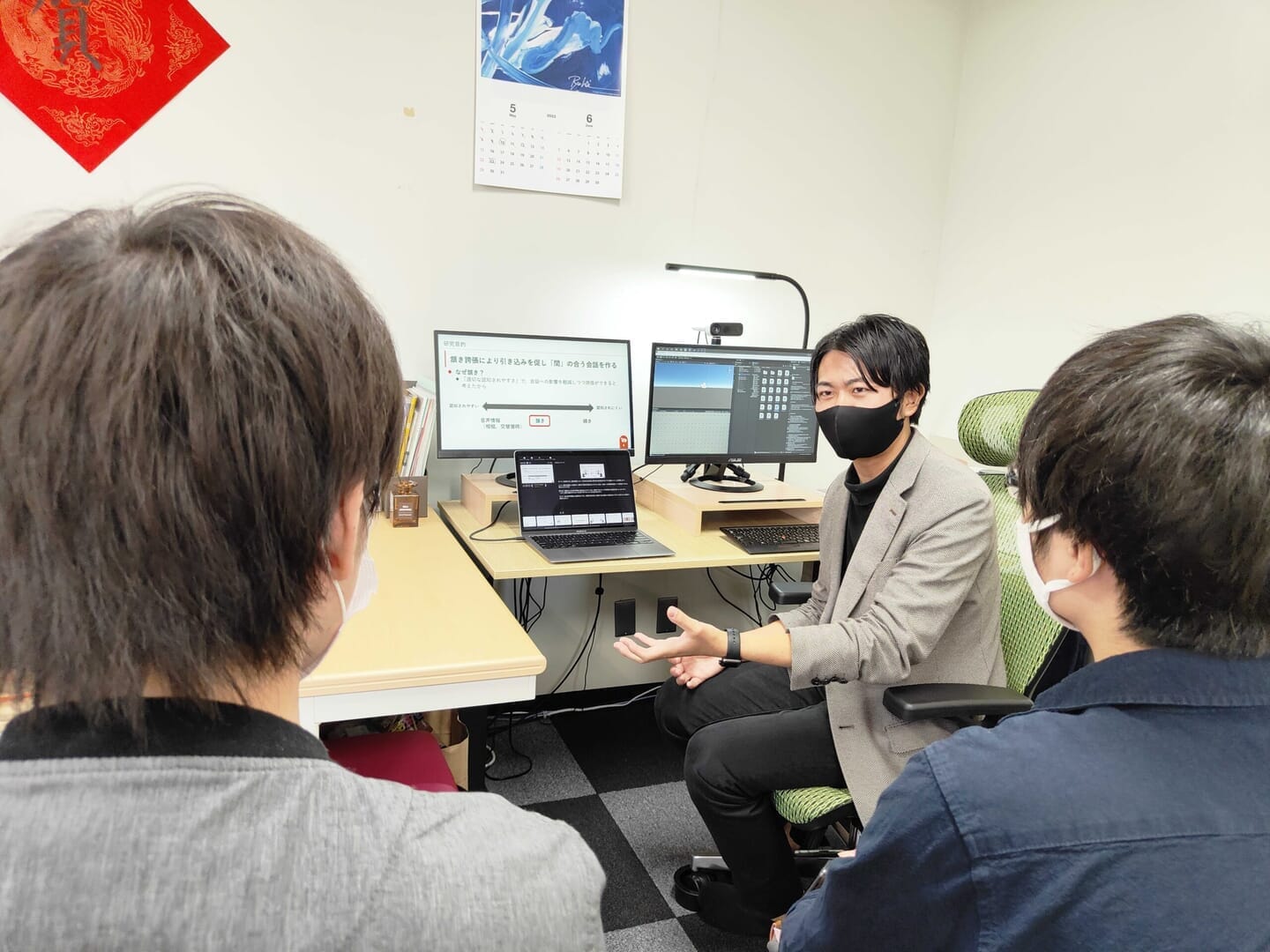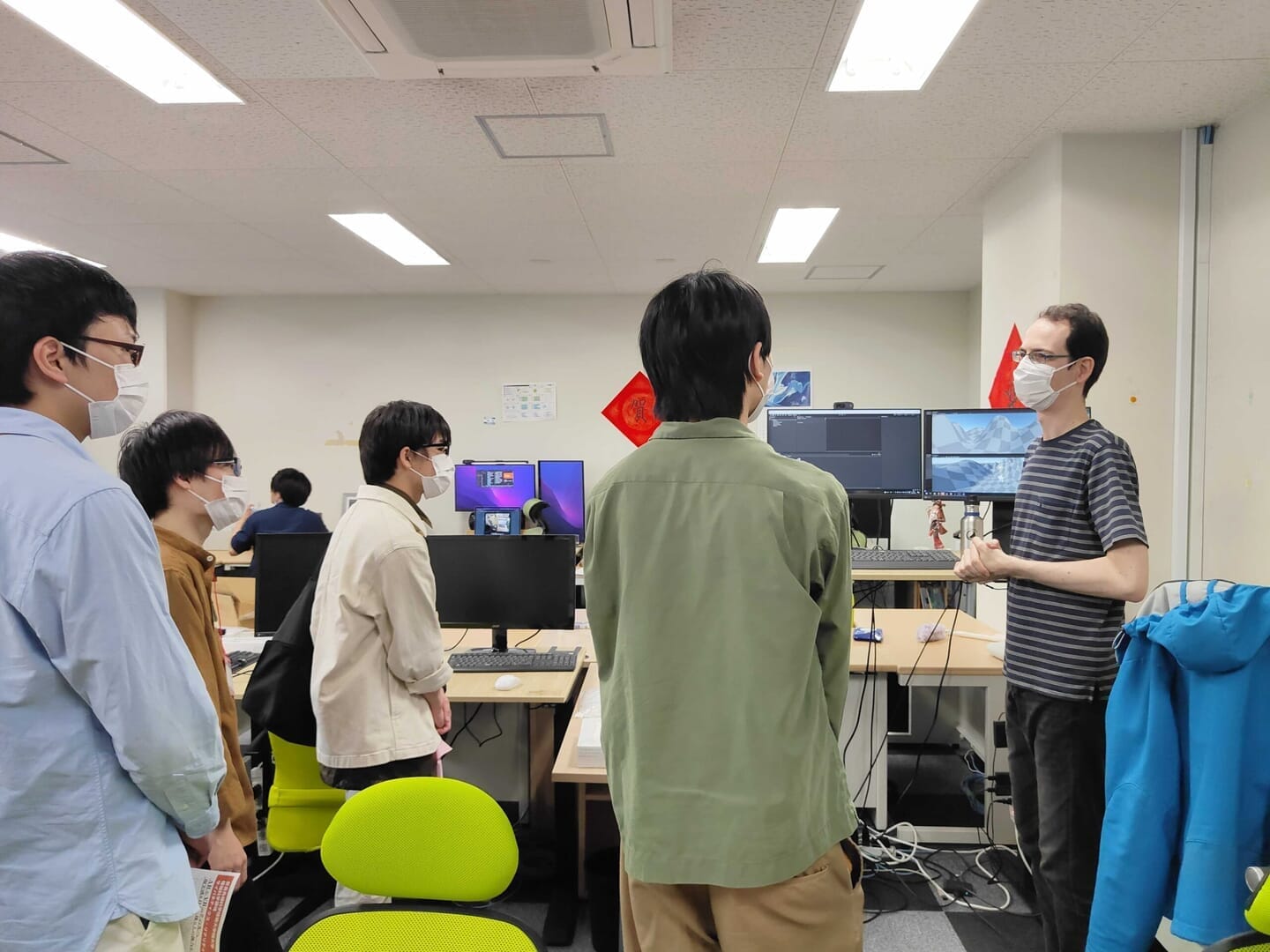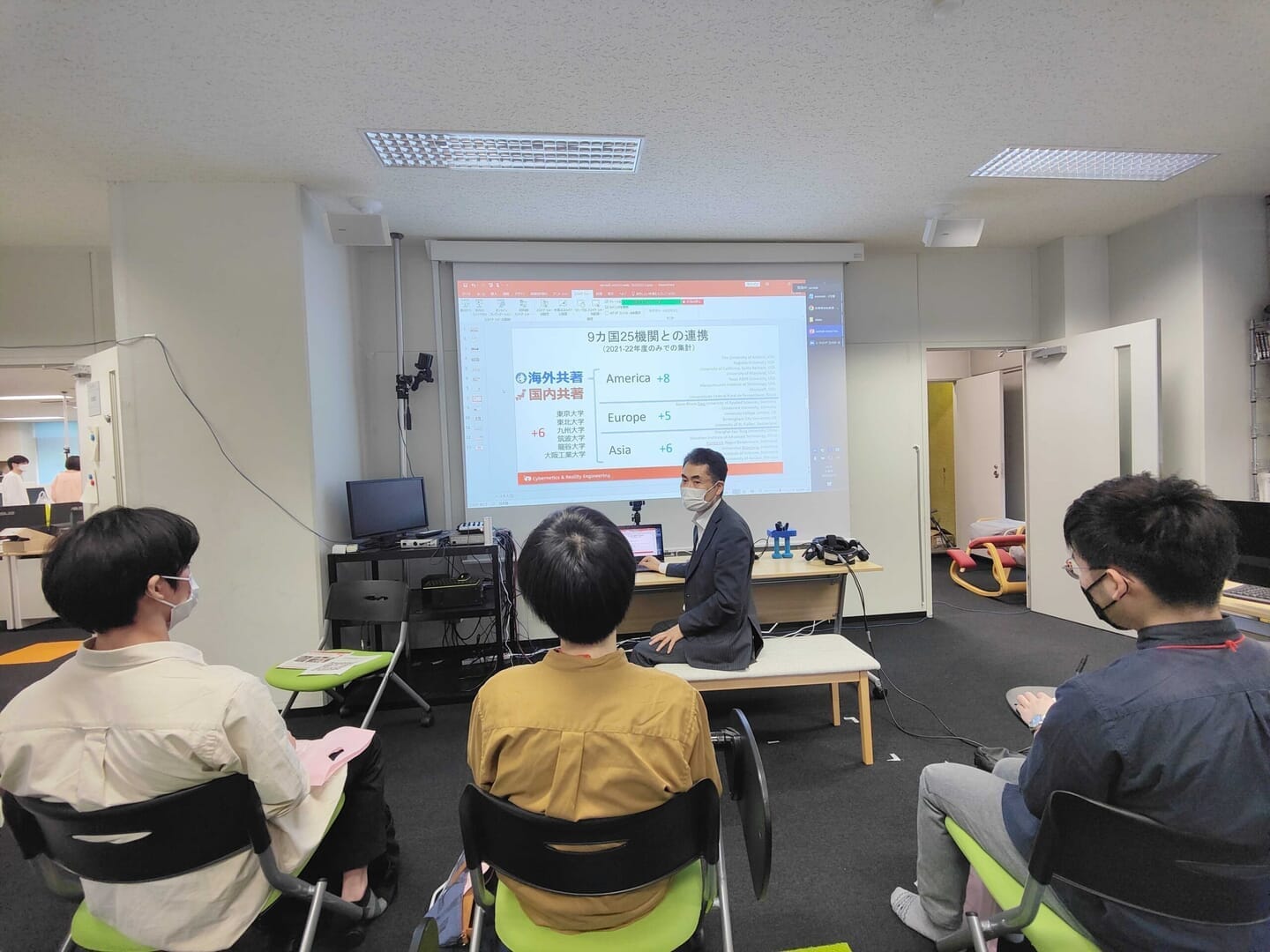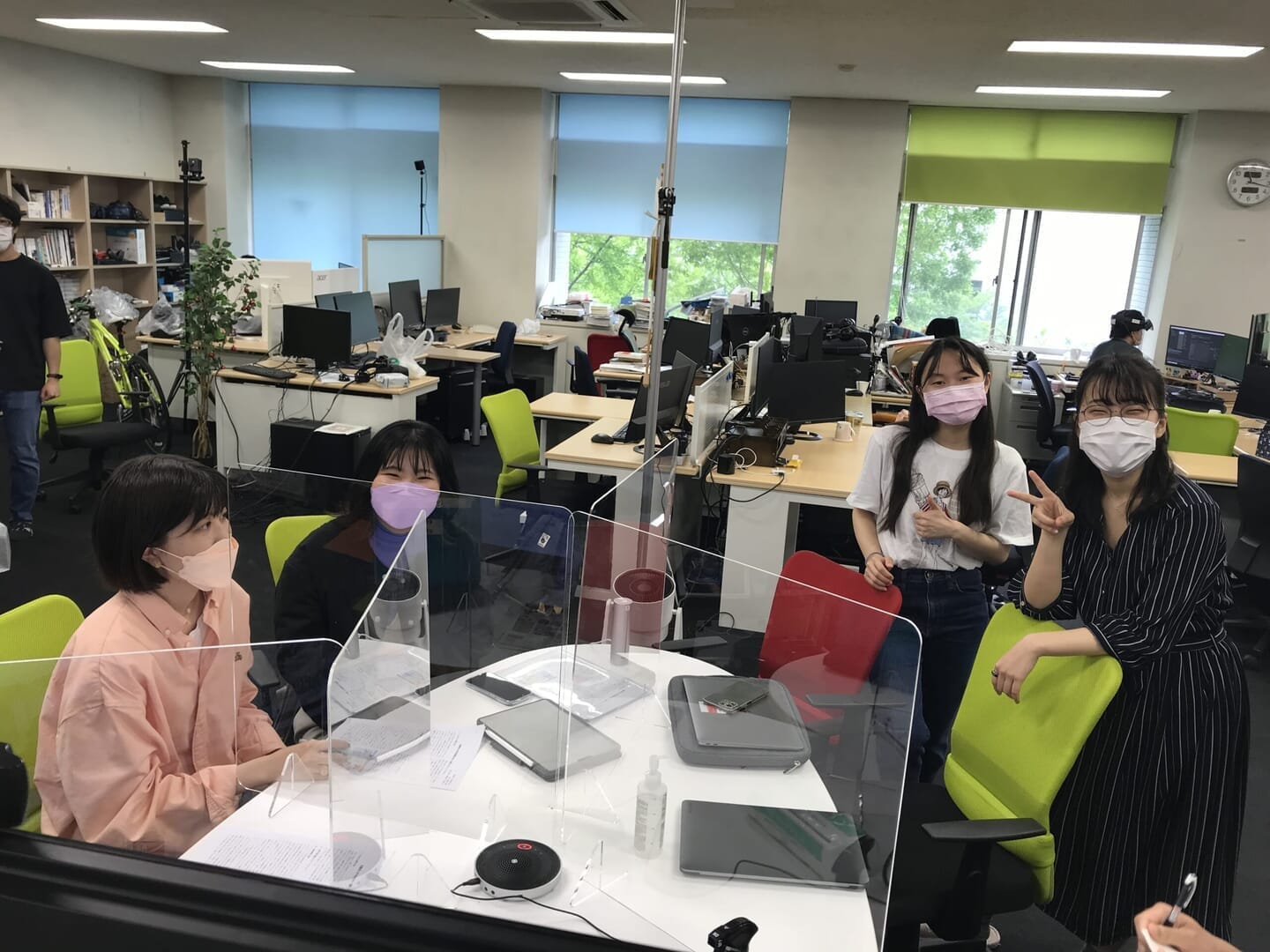 May 2022 Open Campus (on-site & online)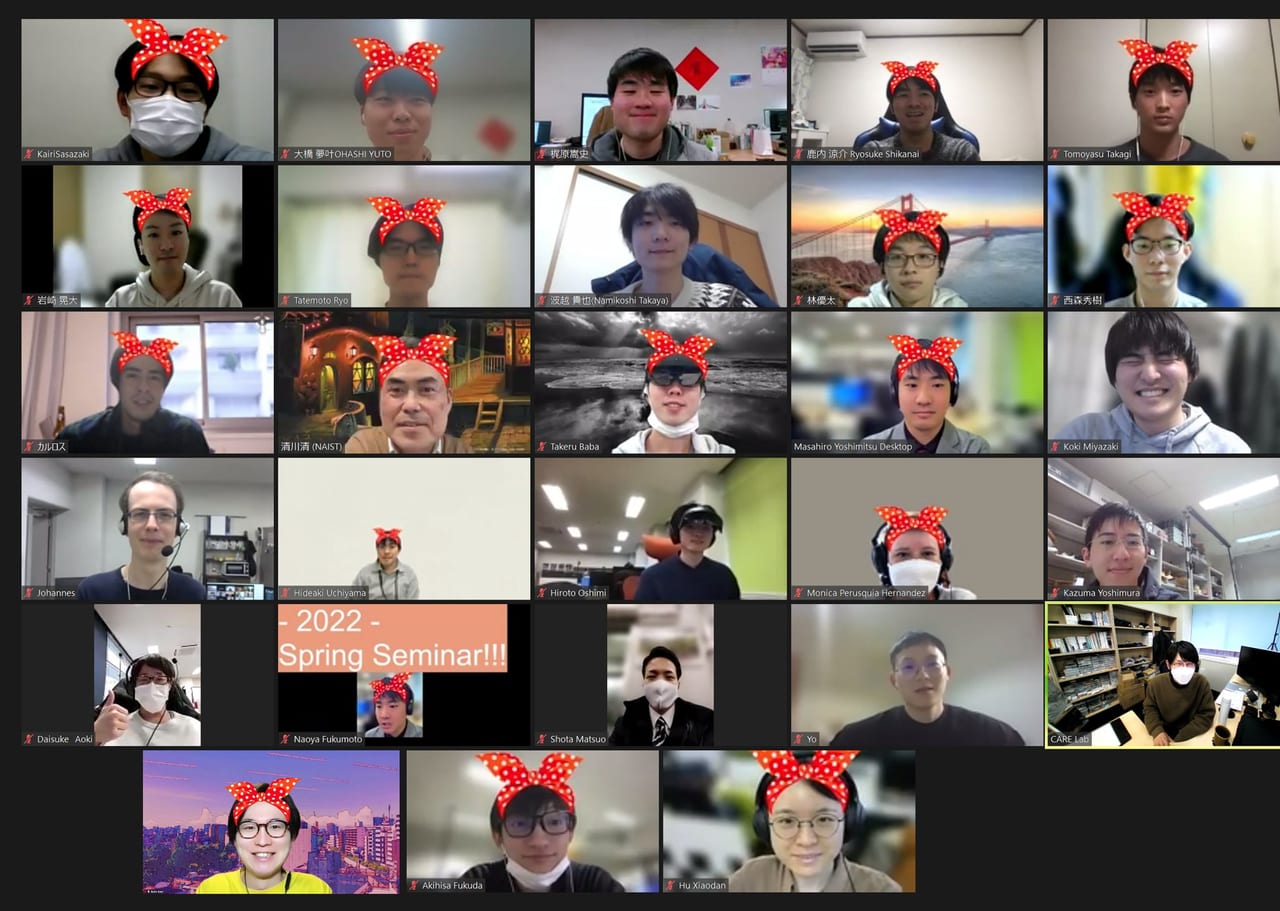 February 2022 Spring Seminar (on-site & online)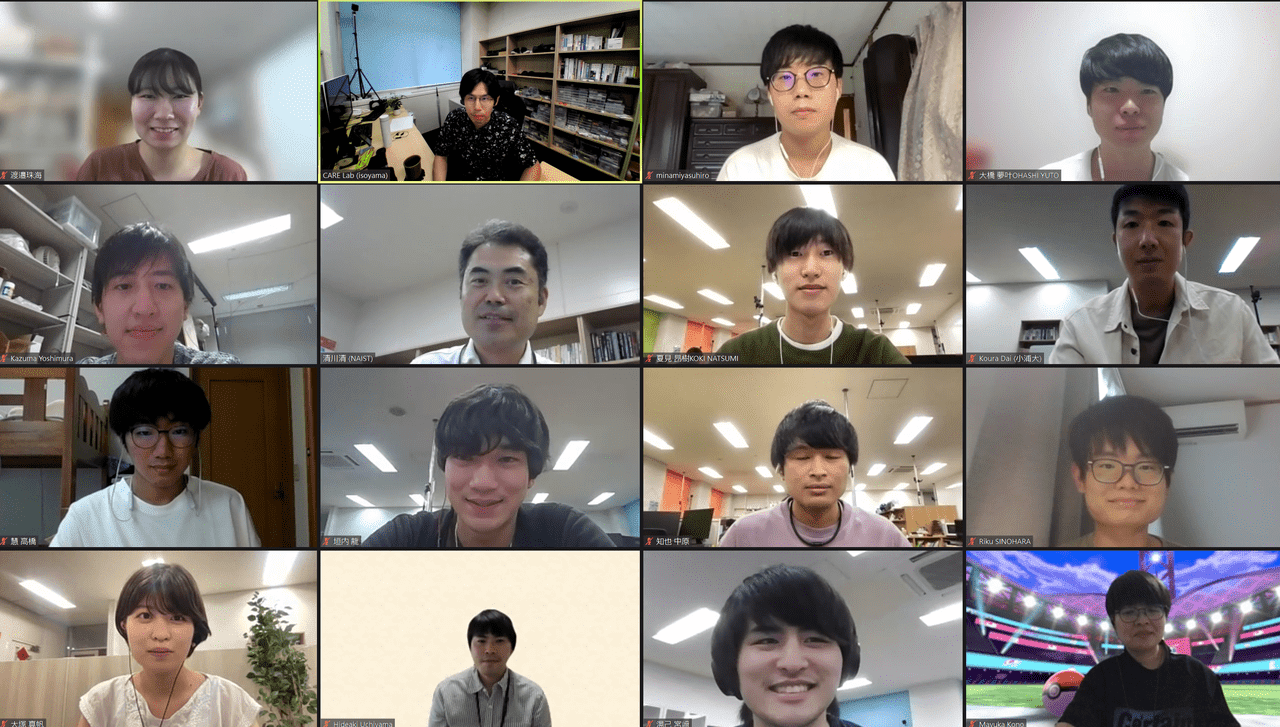 August 2021 Summer Seminar (on-site & online)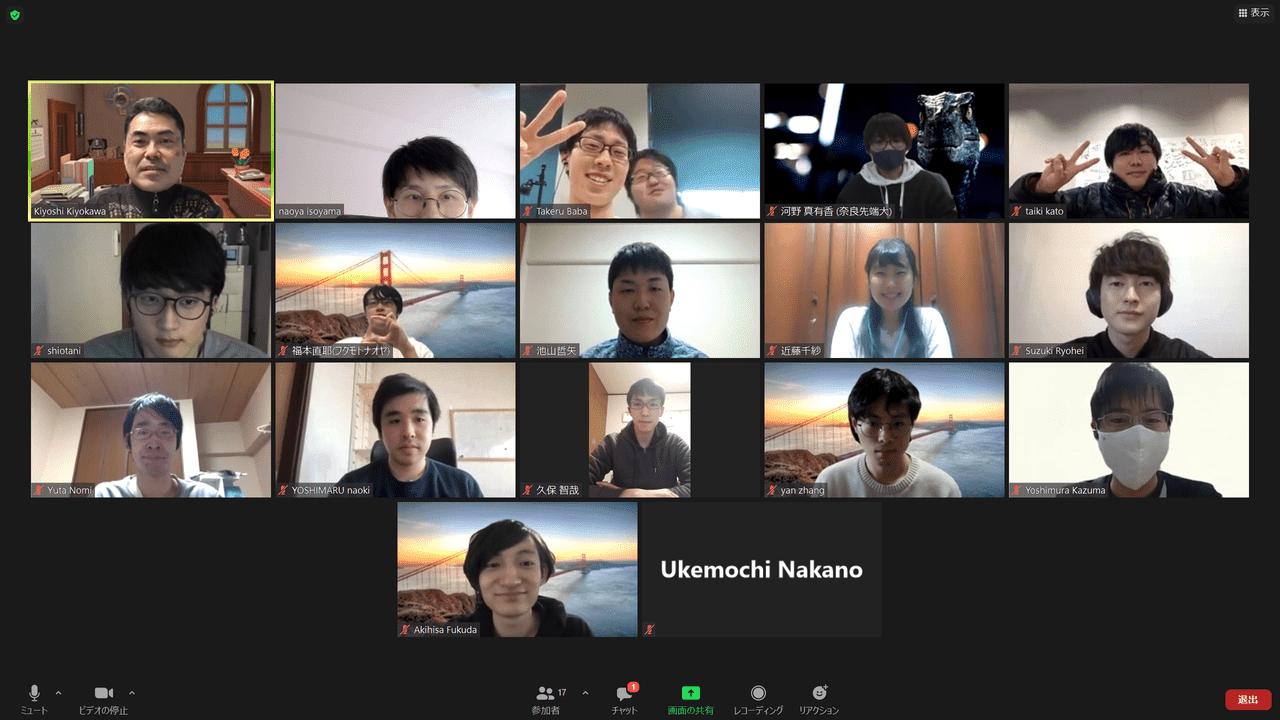 February 2021 Spring Seminar (online)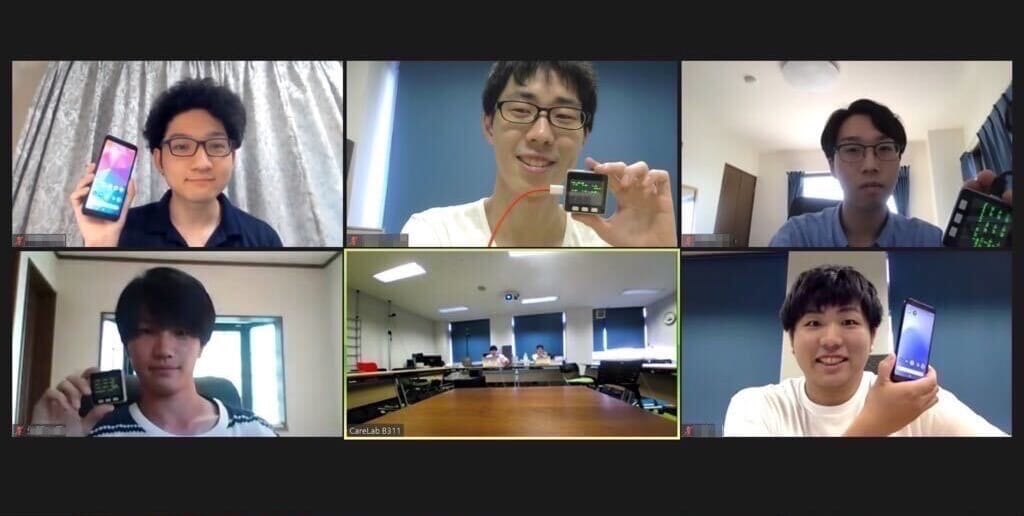 August 2020 Summer Seminar (online)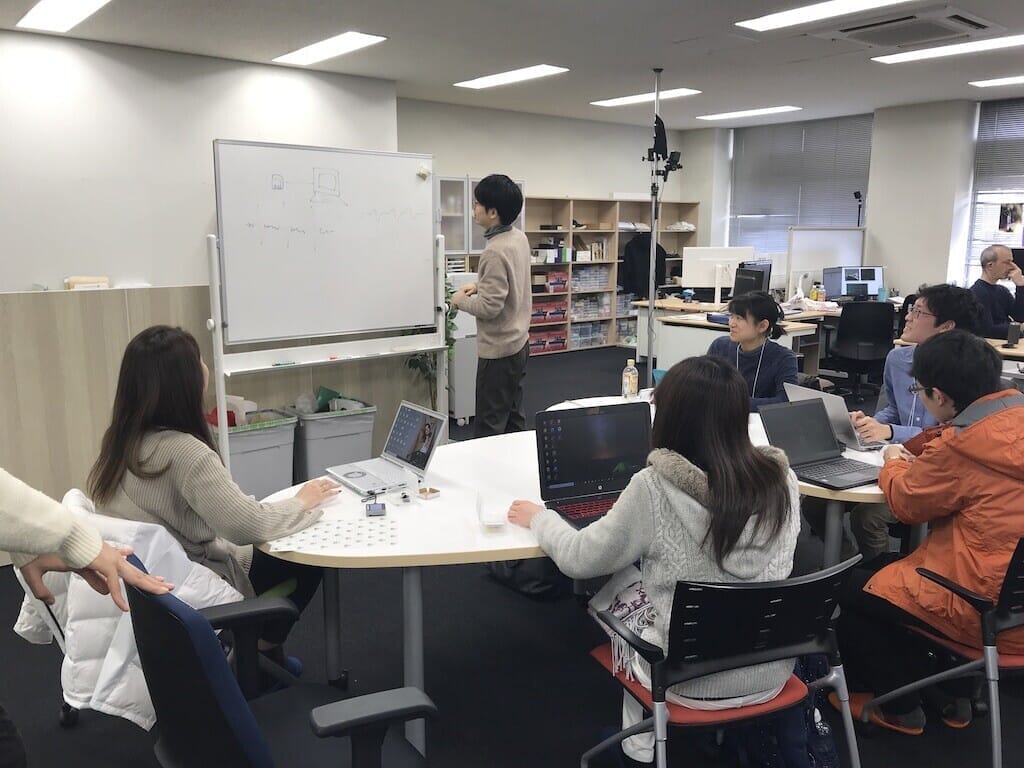 February 2020 Spring Seminar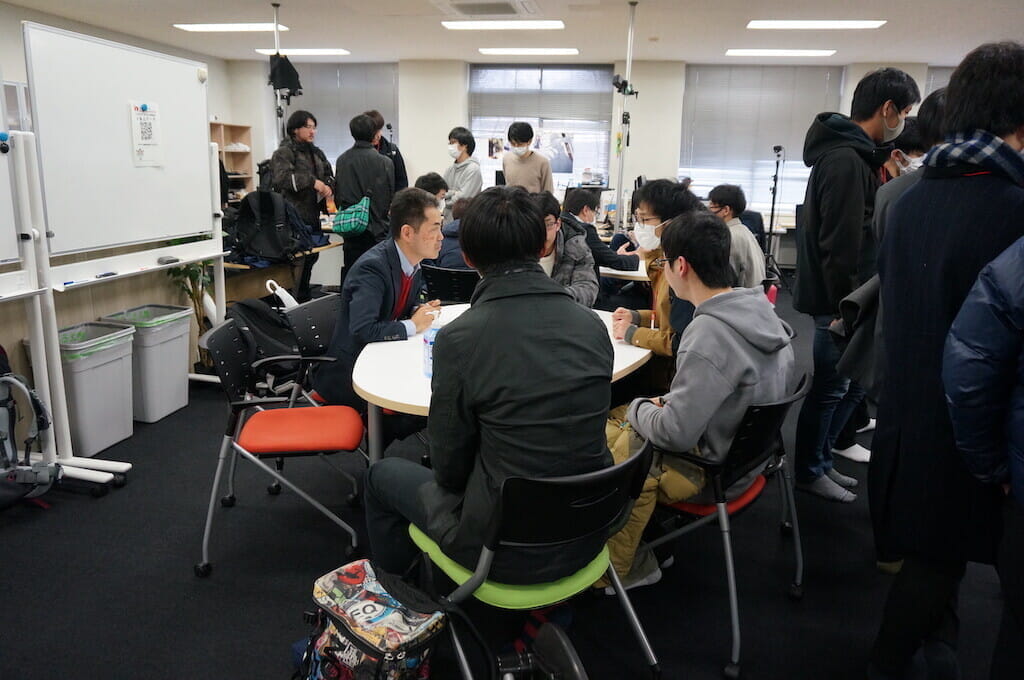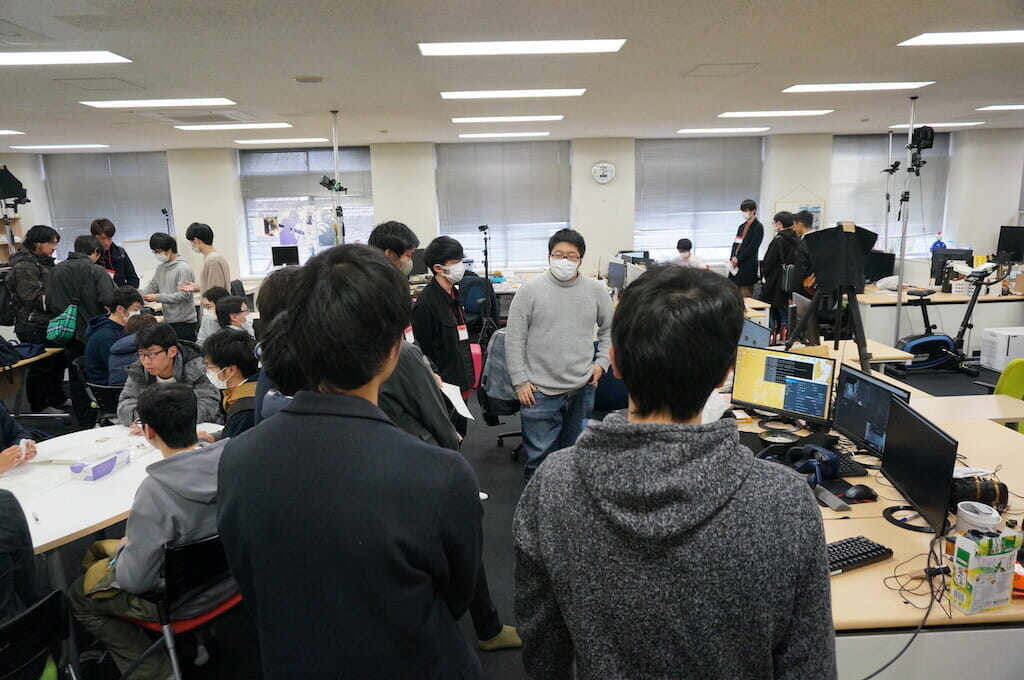 February 2020 Open Campus
Frequently Asked Questions
Research, Student Life, etc.
Q. What can I learn in this lab?
A. Doing graduate research means being number one or only one in the world in your topic. You need to explain the value of your research and validate it scientifically. To do this, you will naturally develop the ability to generate good ideas, to implement those ideas, and to communicate them to others through your daily research activities. More specific topics include image processing, computer graphics, human information processing, machine learning, statistical analysis, etc. Based on these, you will implement systems with elements of augmented reality (AR), virtual reality (VR), and human augmentation. These are the core technologies that will be the driving force behind major social changes that will redefine what happiness means to humanity in the coming decades. Those of you who learn about these advanced technologies will surely become human resources in demand by the society.
Q. Is the level of research high?
A. Overall, it is very high, and I think this is a laboratory where you have a chance to reach a level close to the world's top depending on how hard you work. I have been working on AR and VR since 1994 and have some world-class achievements, especially in the field of HMDs and visual augmentation, and have been deeply involved in organizing top conferences in the AR and VR fields. So I am well versed in the global trends in these fields. I have also made predictions and proposals on the future of VR and AR in the next few decades on behalf of the academic society or in discussions with fellow researchers. In addition, we cooperate with many top researchers in Japan and abroad, and are actually promoting various joint research projects. Associate Professor Uchiyama is also a world expert in computer vision and action recognition, having won a world competition in indoor positioning measurement.

However, we do not force our students to do what our staff members are good at or what they want to do. With this outstanding expertise as a background, we strive to support what students want to do by also drawing on the expertise of Assistant Professor Isoyama, who specializes in information presentation and behavior change, and Assistant Professor Perusquía-Hernández, who specializes in affective computing and emotion estimation. As a result, not all research goes excellent, but we have received the Best Student-Led Journal Paper Award (for the best student-led research paper) at the top AR conference ISMAR 2021, the HCG Human Communication Award (for the best paper of the year), the MVE Award (for three consecutive years) from the IEICE Media Experience and Virtual Environment (MVE) Research Group, the Best Paper Award from the IPSJ Ubiquitous Computing Systems Research Group, the UWW Best Student Presentation Award, and many other awards for student research results. Our students have also been active in IVRC, a high-level student VR competition in which our students participate on a voluntary basis as part of their training, winning the Kawakami Memorial Award and a special award from the judging committee. In the end, it is up to your effort, but opportunities are spreading before your eyes.
Q. What research equipment and facilities are available?
A. Most of the equipment and software required for research can be purchased as requested after consultation with the staff. Computers are provided for each student in the form of desktop and laptop PCs; GPUs are available with high specifications according to the research topic. There are also several machine learning servers with particularly high-specification GPUs at your disposal. We have a large number of head-mounted displays for AR, VR, and wearables, including HoloLens 2 (several), HoloLens 1 (several), Varjo XR-1 (several), Varjo XR-3, HTC Vive Pro Eye (many), and Oculus Quest 2 (many). Since we sometimes develop HMDs on our own, we have a full lineup of optical tables and various optical components such as lenses, mirrors, LCoS, LCDs, OLEDs, etc. We also have a large number of position and orientation sensors such as Vive Tracker, motion trackers such as Vicon, OptiTrack, Perception Neuron, RGBD cameras for 3D measurement such as Azure Kinect and RealSense, biometric sensors such as Shimmer3 and Myo, eye trackers Pupil Core and Pupil Invisible, 360-degree camera Theta V (many), Leap Motion motion sensors (many), Arduino, Raspberry Pi, M5Stack, M5StickC (as many as we need), 3D printers (several) and a variety of crafting equipment. In addition, we co-manage a jet water pool for research and have special research equipment at our disposal, such as an underwater drone.
Q. Can I do research on XX?
A. Your research theme will be decided carefully, taking into consideration what you want to do to the greatest extent possible. We cover a wide range of themes related to sensing, display, and interaction. We will also consult with you on completely new themes. We aim to be the only one rather than the number one. We often describe our laboratory's themes as being like sea urchins. It means that each of us is doing our best on the sharpest theme we like in different directions. However, we do not want you to do research as you like, although you are allowed to do what you like. We want you to always be aware that you are in a privileged environment, and we want you to give it your all while you are at NAIST. For examples of specific themes, please see the Research Themes page and the Publications page.
Q. How is research conducted?
A.
The rough plan for the two-year research process in the Master's Program is to decide on a theme, develop a prototype, and present it at a conference at least once in the first year, and improve and evaluate it, and submit it to an international conference or an English journal in the second year. There are three levels of meetings in order to advance the research.
The "General Meeting" is held every week and attended by all students. At each meeting, two or three students report on their research outline and progress in a conference style, and answer various questions from the other members. Each student is expected to present about once every three months. In addition, everybody will be notified of relevant communications.
"Group Meetings" will be held about once every two weeks and will be attended by about four students in each group plus faculty members. They discuss the details of their research and decide on a schedule for the next meeting. The composition of the groups changes every year, but the groupings are roughly similar to those listed on the Research Themes page.
"Individual Meetings" are set up as needed when a particular student and faculty members wish to have a more in-depth discussion.
Q. Do you have core hours?
A. We do not have core hours. We communicate mainly via Slack, then email. The most important thing is to be able to contact each other in a timely manner. As long as you attend the scheduled meetings without being late and make progress in your research, you are free to work at any time. Faculty members are usually around 9:00 or 9:30 AM to 8:00 PM, so if you are active during times that overlap with these times, various interactions will go more smoothly.
Q. How much English is required?
A. First of all, as a matter of record, students with TOEIC scores in the 400s are also active in writing English papers, so there is nothing to worry about (the average TOEIC score of students who pass the Japanese entrance exam is just under 700). Since there are many international students in our laboratory, we ask non-English speaking students to use English for meetings and the like, either for documents or oral explanations. Also, you will probably write papers in English several times during your studies. Also, most lectures at NAIST are in English, so you need to be able to tolerate that. Other than that, you can spend your laboratory life without English. On the other hand, it is an ideal environment for those who want to actively engage in international exchange. As in any laboratories at NAIST, we also have many international students, and if you wish, there are many opportunities to receive joint supervision with overseas researchers or to study abroad for a short period of time. In any case, I would like you to be a global citizen before being a citizen of a specific country. English is a lingua franca, so I want you to be motivated to improve it as much as possible. Everything in your laboratory life is a chance for you to improve it.
A. There are great opportunities. With the exception of the 2020-2021 academic years (due to covid19), we had students going to Finland, Germany, New Zealand, etc. every year for short-term study abroad. As is the case everywhere at NAIST, our lab has very strong ties to foreign laboratories. We interact with many of the top labs in AR and VR, and we can refer you to dozens of labs in 20 countries or so. Also, as I mentioned in my answers to other questions, there are plenty of opportunities for international exchange in addition to studying abroad. You can easily hold online meetings with laboratories around the world via zoom, etc., and researchers and students from those labs frequently visit us. We hope you will expand your opportunities and become active on the global stage.
Q. What is the atmosphere like in the laboratory?
A. The laboratory is spacious and the atmosphere is not formal. The main student room is large and open with faculty booths inside, and their doors are almost always open, so that there are as few walls between the faculty and students as possible, both physically and psychologically. Students are free to come in to the faculty rooms at any time. We have 360-degree still images and 360 video of various areas of the laboratory for your reference. If you view them on your phone, you can tilt your phone to look around. Please refer to the Alumni's voice page where alumni and interns have written about the good points of our laboratory from a student's perspective. Please also refer to our laboratory news on the top page. You can also click on the lab logo at the top of the page to go there.
Q. What is the difference between the CARE Lab and other laboratories?
Lab Visit, Preparation for Examinations, etc.
Q. I'm interested, but vague.
A. That's all right. At first, it is enough to simply say that it sounds interesting and fun. You don't need any reason or evidence beyond that. First, think about what you are interested in, what you find interesting, and what you would like to change about yourself. Then, if you feel like talking to us, don't hesitate to come for a lab visit anytime. You can also just give us a message using the form at the bottom of this page. It doesn't matter if it's about something like a problem you're having.
Q. I am worried about covid19.
A. We are available for an interview, a lab tour, and a lab experience regardless of covid19. Many students visit us online. If you are in Japan, you can also do an internship online. We will interview you in advance about what you want to do and send you the necessary equipment. You can receive instruction over video and participate in lab meetings.
Q. Can I be a research student?
A. We accept many short term research students from all over the world. To become a research student of our laboratory, you need to have a place to return after the research period such as a university or a company, or, you need to have already passed the entrance examination of NAIST. Please understand that we cannot accept you as a research student if you do not have a place to return nor have yet passed the entrance examination of NAIST. 
A. Our lab covers a wide range of topics including cognition, psychology, entertainment, life support, vision, haptics, visualization, image processing, and machine learning, so it is difficult to say what you should study in common. If you want to learn the basics of AR and VR, please refer to the AR and VR textbooks that our lab members were involved in writing at the bottom of the About CARE Lab page. Also, if you want to get used to system development, you should touch Unity. If you would like more detailed advice, feel free to request a visit at any time.
Q. How should I write my essay for the entrance exam?
A. Since you can probably write about what you have learned, I will explain how to write your research proposal. First, choose a research topic. If it is difficult, choose one that interests you from our past research topics and find and develop the missing parts of it. The structure of an essay is similar to that of a regular academic paper. First, state firmly why the research topic is important. Next, list several relevant studies in journals or international conferences and the problems they have not yet solved. Then, summarize how your research will solve these problems. Be as specific as possible with figures and tables, explaining what effects your research will produce, what hardware and algorithms you will use to achieve it, and how you will verify the targeted effects. Have someone review your essay before you submit it. Our students seem to receive numerous essays every year. Please note that what I look for in the essays are research skills, logical planning skills, and writing skills. The actual research theme will be discussed and decided after admission. In order to help you decide on a research theme, we highly recommend that you visit the laboratory at any time and take a lab experience at any time. You will be able to discuss at length with the faculty and students in the laboratory, and students will give you their essays and advice on how to write them.
Q. Can I do it even if I come from other fields?
A. NAIST widely accepts students who do not come from information science backgrounds. We have a well-developed curriculum and can make adjustments to research themes. In our laboratory, there are many students who come from other fields including mechanics, chemistry, biotechnology, pharmacy, economics, psychology, etc. Since VR, AR, sensing, etc. are all about reality, I think it is easy for people from any background to be active in these fields. I believe that you will have a longer life ahead of you than you have in the past, so I encourage you to take the plunge and challenge yourself to do what you want to do, without getting stuck in the past.
Q. Do you have a gender gap?
A. It is true that the percentage of female students is small at the Information Science Division, NAIST. However, female students are very welcome in all laboratories, and female students who have acquired expertise in both development and research positions are in great demand. The percentage of female students is gradually increasing, and a high percentage of them can live in dormitories if they wish to do so. Internationally, research fields such as AR, VR, HCI, image processing, and psychology/cognition have always had a high percentage of female researchers, and at international conferences on VR, the number of female participants sometimes exceeds 30% of the total. I encourage you to move forward with high aspirations. The percentage of female students is 10-15% in the entire IS division at NAIST, and in our laboratory, it is about 28% (10 out of 35 including research students) as of May 2023, and it has been increasing in recent years. It will increase even more if you join.
Q. My parents recommend other universities.
A. Regarding information science, NAIST has a very high reputation in both academia and industry. However, NAIST is not a brand, but an institute to acquire competence. Unlike most universities and technical colleges, NAIST attracts "sharp" students from various backgrounds. It is not a bad idea to immerse yourself in research at a place where a diverse group of motivated students who don't care about brands gather! We hope you will fall in love with NAIST yourself and convince others.
Contact form
Please contact us if you have any questions or comments.